Description
GenBody COVID-19 IgM/IgG device is a chromatographic immunoassay kit for the rapid and differential detection of immunoglobulin M (IgM) and immunoglobulin G (IgG) against COVID-19 using serum, plasma and whole blood.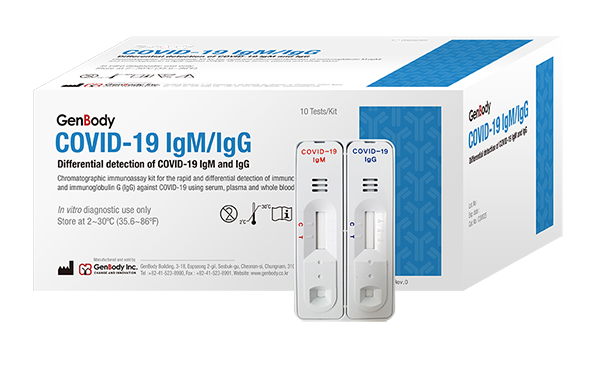 Assay procedure
Capillary blood is used to do the test, prick the finger and collect the blood by a capillary tube. And then, load the blood onto the sample well (S) of the test device.
Reading and interpretation of results
Negative: ONLY one band in the control line (C). No COVID-19-specific IgM and IgG were detected. Re-test in 3-5 days if COVID-19 is suspected.
IgM Positive: two bands appear in the test line (T) and control line (C) in the left side of device.
IgG Positive: two bands appear in the test line (T) and control line (C) in the right side of device.
IgG and IgM Positive: each two bands appear in the test line (T) and control line (C) in both side of device.
Invalid result: If at 15 minutes, the red band does not appear in the control line (C), the result is considered invalid. If the test is invalid, a new test should be performed with a new patient specimen and a new test device.
Limitations of the test
GenBody COVID-19 IgM/IgG is designed for the detection of IgM and IgG antibodies against novel coronavirus (2019-nCoV). This kit can provide a fast and simple results but, do not completely exclude the possibilities of false positive or false negative results caused by various factors. For confirmation, please make a final decision with clinical symptoms, other testing results, and doctor's assessment, collectively.
GenBody COVID-19 IgM/IgG is only provided for use by clinical laboratories or to healthcare workers for point-of-care testing, and not for at home testing.
Instructions for use will contain the following information
This test has not been reviewed by the FDA.
Negative results do not rule out SARS-CoV-2 infection, particularly in those who have been in contact with the virus. Follow-up testing with a molecular diagnostic should be considered to rule out infection in these individuals.
Results from antibody testing should not be used as the sole basis to diagnose or exclude SARS-CoV-2 infection or to inform infection status.
Positive results may be due to past or present infection with non-SARS-CoV-2 coronavirus strains, such as coronavirus HKU1, NL63, OC43, or 229E.
Not intended for the screening of donated blood.
Cross-reactivity/analytical specificity
Materials

Substance to be tested in this experiment: listed in the Table 1.
Testing device: GenBody COVID-19 IgM/IgG (Lot No.:FJ001).

Methods

The listed substances or anti-sera/plasma were used as the specimens of the testings. 10 ul of each material was loaded into the kit.
Test procedure was fully followed by the manual of GenBody COVID-19 IgM/IgG.

Results (table 1): As shown in table 1, all of the listed substances did not affect the proper reaction of the kit (not cross-reactive).
Table 1. Cross-reactivity of GenBody COVID-19 IgM/IgG
No.
Substance or anti-sera/plasma
Conc. or titer
Results of 3 replicates
1
HCV Seroconversion panel
(ZeptoMetrix Corp., USA)
7.037 s/CO
All negatives
2
HIV Seroconversion panel
(ZeptoMetrix Corp., USA)
5.42 s/CO
All negatives
3
Dengue performance panel
(Seracare Inc., USA)
10.9 s/CO
All negatives
4
Zika IgG (AbBaltis Inc., UK)
Not declared
All negatives
5
Chikungunya IgG (AbBaltis Inc., UK)
Not declared
All negatives
6
Yellow fever IgG (AbBaltis Inc., UK)
Not declared
All negatives
7
Adenovirus IgM (AbBaltis Inc., UK)
Not declared
All negatives
8
Leptospira IgG (AbBaltis Inc., UK)
Not declared
All negatives
9
Respiratory syncytial virus IgG
(AbBaltis Inc., UK)
Not declared
All negatives
10
Mycoplasma pneumoniae IgGM
(AbBaltis Inc., UK)
Not declared
All negatives
11
Mycoplasma pneumoniae IgM
(AbBaltis Inc., UK)
Not declared
All negatives